Featured Offer
Buy your 2019 Gallagher's Canyon Game Packs Online!
Bonus with purchases before February 28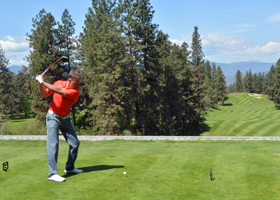 More Details
Golf Shop at Gallagher's Canyon
Everything you need – and want – for your golf game or as a gift.
The Golf Shop at Gallagher's Canyon is one of Kelowna's best places to shop for a wide range of the latest men's and women's brand-name golf, sports and leisure wear, as well as accessories, footwear, souvenirs and rental equipment. The Golf Shop staff are here to assist you in finding everything you need for a pleasant and memorable day at Gallagher's Canyon. Whether golfing or just shopping, come take a look!
Hours & Tee Times
Hours: In Season: 6:00 am - 8:00 pm, every day | Off Season: 9:00 am - 4:00 pm, Monday to Friday