Featured Offer
Seahorse Swing Pass
3 Days of Unlimited Golf on the Gold and Emerald!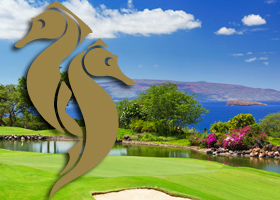 More Details
Tournaments
Golf Events
Wailea Golf Club features three beautiful championship courses at one of the world's finest resort destinations. Wailea is blessed to be located on the southwest side of the island of Maui at the base of 10,000 foot Mount Haleakala. With Hawaii's weather dictated by the northeast trade winds, Wailea is shielded by Haleakala, creating the most ideal golfing weather found anywhere. Add this to the beautiful ocean vistas and views of our neighboring islands, and you truly have "the best golf in paradise."
Each of our three courses is maintained to the highest standards and feature beautiful landscaping, colorful flowers and again, those stunning ocean views. So beautiful is the scenery at Wailea that golfers refer to it as "visual hazards." With these three jewels to choose from, we are able to accommodate golf groups of all sizes. From the small executive retreat to the largest of groups, we are able to provide a memorable golf experience enhanced by our professional attention to detail and experienced staff. Here at Wailea, we go way beyond providing a tee time and a golf cart. We are more than happy to assist with the event planning to make sure everything goes smoothly and a great time is had by all. We can support you from beginning to end, starting with choosing the right format for your group all the way to a complete scoring recap.
The Wailea Golf Club is able to provide complete golf tournament services including customized rule sheets, cart signs, scoring tabulations, assistance with format planning and specialized merchandise for prizes or gifts.
Contact Information