Featured Offer
Holiday Events at Gallagher's Canyon
Book now!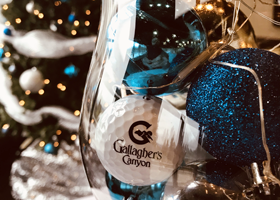 More Details
Event Planning
Gallagher's is the perfect setting for your Kelowna event
From weddings, banquets, cocktail receptions to golf tournaments, Gallagher's Canyon Golf & Country Club provides the perfect setting for your special event. Gallagher's can accommodate groups of 24 to 150 golfers for events, with all the personal touches expected of a GolfBC event. For parties and dinner functions, the 150-seat Canyon Room offers a beautiful view of emerald fairways and mountain panoramas from its covered patio. Our beautiful surroundings are the ideal complement to Executive Chef Tim Buckley's custom menus, which feature the finest in local ingredients. Entrust the professionals at Gallagher's Canyon with your vision, and we will deliver satisfaction down to the last detail.
Gallagher's Canyon is available for tournaments every day of the week during the golf season. Our banquet and meeting facilities are available for wedding receptions, golf tournaments, Christmas parties, birthday or anniversary dinners, cocktail receptions, business meetings and trade shows.
Contact Us